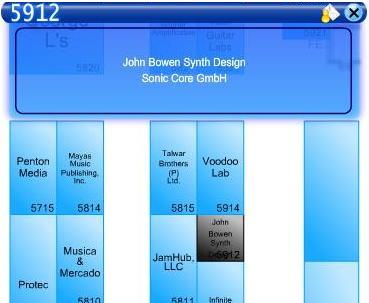 GaryB: The Sonic Core booth was small but functional. After all, with so much power packed into a small box (XITE-1) how much space do they really need? On display was the XITE-1, an A-16 Ultra MK2 (Ferrofish), a laptop running Windows 7 (64-bit) which ran perfectly all day for four days, two pairs of monitors supplied by KRK, an acoustic guitar, a microphone, Cinja who sang her butt off, a Solaris, a small pink MIDI keyboard graciously donated by CME, and furnishings from IKEA. Attending the booth was myself, Holger (sometimes, when he wasn't having meetings), Ralf Bach, John Bowen, Bernard (John Bowen's cool associate) and various visitors. It was pretty good for a trade show.

The location wasn't in the best area traffic-wise, but it was on the main floor and I think that it will help the product gain momentum. My hat is off to Sonic Core for sticking with Scope, as it's rare to see people working from passion in a business that's not as lucrative as other options. This makes me root for them to be successful, really. Hard work well done deserves a reward.
As for high profile visitors there were reps from Avid, Roland, Korg (John Cooper), Bill Goldstein, Michael Boddicker, and a number of buyers, producers and players from major to minor were there. Even nicer were the many loyal, devoted users who just stopped by to say hello. Stevie Wonder was in the next booth over.